Wm. Henry and Sid's Boys--the Martin Brothers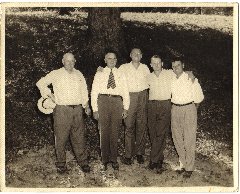 Autie, Clyde, Homer, Lawrence , Charley
Valentine and Hannah Alice (McCullough or McCulla) Martin
Valentine was born in 1806 in the border region of North and South Carolina, where the boundary lines were not firm yet. His father William Martin, a Baptist preacher, moved the family to Bedford County, Tennesee, in January 1817.
Valentine married Hannah McCullough, the daughter of James McCullough, and came with the McCulloughs to Clinton County, Illinois, in 1828. I can find no evidence that Valentine ever owned land, and for me that is a sadness. I look at Hannah's picture with her son's family down in Johnson County taken, we think, around 1890, and I feel sorrow. My children always looked at the picture and called their great great great grandmother "the little apple doll lady" because she looked like the apple dolls they'd seen carved with wizened wrinkled faces.
An old piece of paper with a list of names and birth dates, which Neil Arrington was shown and copied many years ago at the home of Troy Martin in Centralia, convinced us that Valentine and Hannah had 11 children. One daughter named Hannah had disappeared by the 1850 census as did several boys. Four sons reached adulthood. All four volunteered for the Civil War, and I was told the motivation was aversion to slavery. (In fact there were nine Illinois Martin cousins who fought on the side of the Union despite their southern heritage.) The youngest son, Joel, was at Andersonville and died there. He had a government tombstone in a small cemetery on the Herman Poetker farm in Clinton County, and we speculate that Valentine was buried in the same cemetery without a tombstone. Valentine died as the result of being thrown from a horse in 1858. (Joel's tombstone was destroyed by a storm in 1961, and it was tossed and buried in a ditch, according to elderly Mr. Poetker, when Gerald and I visited the cemetery in a pasture in 1962. We have photos of the stub. The stone had read "Joe" rather than "Joel.")
Later Hannah remarried, but family stories told that she was mistreated by this husband. A son went to get her and she spent the remainder of her life with her sons Issac Pruitt, William Felix Grundy, and Drury Dobbins. If anyone was acquainted with grief, the little apple lady was. I hope our lives on this planet now make her feel all her earthly suffering was worth it.
For more on Valentine and Hannah's son William Felix Grundy Martin, click here.
For the home page of Kim Phillips Randolph, a descendant of Valentine and Hannah's son Issac Pruitt Martin and to see his family photo, click here
"Cedar Billy" Martin and wife Priscilla Lowery Moved To Tennesee from York Distrcict, South Carolina, in January 1817.
Valentine's parents were Priscilla Lowery Martin and the Elder William "Cedar Billy" Martin of Bedford County, TN.
Cedar Billy was born December 17, 1776, in Chatham County, NC, to Thomas and Sabra Martin. Thomas served in the horse militia as a volunteer in the Revolutionary War. Thomas seems to have served two terms, and between terms, moved his family down to Lincoln County, NC. After the war, either Lincoln County's boundaries changed, or the family moved a short distance to the NC/SC border area.
Thomas Martin, Sr.'s father was William Martin of Brunswick County, Virginia, who moved to Chatham County, North Carolina..
Are you interested in the Martin history? Some of us are in a yahoo group called cbg, which stands for Cedar Billy Group in honor of Valentine's father.
You may want to join the group and help us discover more information about the early Martins in Tennesee and the North Carolina/South Carolina border and even earlier. If you'd like to join, let us know.
Jeffrey Martin descended from Cedar Billy's Uncle William Martin, who was only two years older than Cedar Billy. For Jeffrey's great web site on our family, click here: