You are invited to join us on this website for a visit down on the farm. I'll introduce you to our lives and my writing. You can contact me at 618.982.2552 or
sueglasco@hotmail.com
.
A wonderful surprise came in the mail the other day: a new book by my friend Dr. Hua-Ling Hu, who is soon moving back to Southern Illinois from Colorado. Hu is also the author of American Goddess at the Rape of Nanking: The Courage of Minnie Vautrin.
This new book The Undaunted Women of Nanking: The Wartime Diaries of Minnie Vautrin and Tsen Shui-fang is edited and translated by Hu and Zhang Lian-hong. It is published by Southern Illinois University Press as was the first book.
An Illinois missionary to China, Minnie Vautring stood up to the Japanese soldiers and their bayonets during the military occupation of Nanking, China. I only learned about her from Hu's first book, and I am eager to learn about her Chinese assistant and trained nurse Tsen Shui-fang in this new book. This new book is the first translation and publication in English of her diary.
It is estimated that anywhere from 200,000 to 300,000 Chinese were killed by the Japanese soldiers during the occupation. Between 20,000 to 80,000 women were raped. Despite Vautrin's and Shui-fang's exhaustion from turning their college into a refugee camp and protecting more than l0,000 women and children, both women kept diaries during this time. Shui-fang's diary is the only know daily account by a Chinese national during this terrible time.
Co-editor Zhang Lian-hong is professor of history and chairman of the Center for Studies on the Nanjing Massacre of Nanjng Normal University as well as associate chairman of the Modern Chinese Historical Society of Kiangsu Province and Nanjing Historical Society. He has co-authored or co-edited seven books published in Chinese.
Books abound at Woodsong, and I am always behind in reading all I want to read. But I am especially eager to read the stories of these two women written under great pressure as they faced evil and saved so many lives.
You are invited....
Do You Have An Ancestor Who Traveled the Trail of Tears?
Anyone with a story to tell about ancestors who dropped off the Trail of Tears is encouraged to share the story with the state Trail of Tears Association. The Illinois Chapter has an ongoing oral history project trying to capture and preserve these fascinating accounts. Let us know if you have a story and we will be certain you know the next time we have a program to collect more stories.
Note: There are two new brochures on the Trail of Tears through Southern Illinois. The newest one features the three main counties that the TOT traveled through: Pope, Johnson, and Union.
A great brochure with GPS and mileage information is available if you are interested in hiking, biking, or driving the original trail in Pope County. Find brochures at I-57 rest stops and other tourism spots or phone Joe Crabb for a brochure.
The purpose of the Illinois TOTA is to discover and share information about the 1838-39 Trail of Tears through Southern Illinois and to encourage the development and preservation of the Trail. The public is always invited to the meetings.
You are also invited:
Southern Illinois Writers Guild meets on the third Thursday of each month but December. Meetings start at 7 pm and are in Room 148 just inside the main entrance of John A. Logan College. Everyone welcome.
On second Thursdays of the month, SIWG sponsors an open mike for prose and poetry reading. Gatherings are being held at the home of SIWG president Jim Lambert. Contact Jim for more information.
To read my journal, click here on http://sueglasco.blogspot.com.
Sue Glasco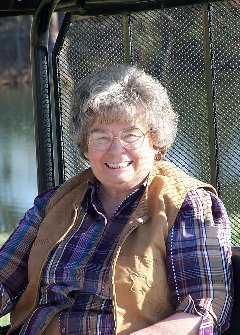 At Woodsong where Sue compiled the book for her children
You can buy Down on the Farm: One American Family's Dream locally from Country Cupboard in Anna, Wolf Creek Antiques in Goreville, the Rose Hotel at Elizabethtown, Herrin Drug Store in Herrin, or in Carbondale or Marion Mall at Book Worm. Or just drop by the farm, and I will autograph one for you.
To order the book Down on the Farm: One American Family's Dream, go to Amazon.com by clicking here, and then search for Sue Glasco.
Click here to go to Woodsong Notes, my journal.
See our granddaughter Erin Glasco's catch that merited being one of the "Top Ten Plays" on ESPN.
Listen to our granddaughter Leslie Eiler's prose reading at the Illinois state speech contest. She won third in this category.
Hear Leslie give her original Special Occasion Speech at state. She won second.